The Sandman Will Keep You Awake - The Loop
Play Sound
These are the patch notes since the release of Thief Simulator. This includes updates made to the game, future plans, and patch tests.
8 NOV, 2018 @ 1:56AM - PETER
After watching countless videos of the game we made some balance tweaks and bug fixes. We are still testing this version so let us know if you found new bugs :)
Also I hope the new police siren won't be a problem for twitch :/ like the last one.
Cheers,
Piot
New patch - 1.02 car dismantle fixes and tweaks
9 NOV, 2018 @ 5:37AM - PETER
-visual changes to simple lockpicking minigame -car dismantle fixes and tweak
Game Release Stuff\
9 NOV, 2018 @ 10:03PM - PETER
Hi, the release is near, I want to thank all the beta testers and people who had helped us in the developement of this game.
Make sure to check some awesome YouTubers and twitch streamers playing our game, support them as they are the best :) Their videos will also help you decide if this game is for you.
Cheers, Peter
The Game is Released!
10 NOV, 2018 @ 12:10AM - PETER
Have fun :)
Post Release Info
10 NOV, 2018 @ 4:28AM - PETER
Hello, thanks everyone for the awesome support!
First I want to tell you all that we are already checking out the bugs you had reported.
Secondly we have plans to expand the game in near future! We are reading the feedback and we will write down the features that the players want the most.
Also in case of any issues with the game make sure to check the pinned topics first.
Cheers, Peter
Near Future Requests Pool
10 NOV, 2018 @ 5:42PM - PETER
Hey, just wanted to know what would you like the most, check this form: https://docs.google.com/forms/d/e/1FAIpQLSfv8y6t0fe1EMEBsg8t1ayCXl8ccxmBJ-eSGhylzn0VuWFx_g/viewform
Incoming Tweaks and Fixes
11 NOV, 2018 @ 2:03AM - PETER
Hi, we are gathering bugs and tweaks reported by the players and already working on them.
Please be patient, we are a small team and we are working night and day to help the players both with game patches and on the steam forums.
Patch 1.022
12 NOV, 2018 @ 4:27AM - PETER
It's a test patch, we will revert if any critical bugs are found. Features: -force 24 hour clock in options -vSync options -max frames per second options
Bug fixes -sleeping at parking and moving at the same time -typo in tutorial -strange text in French while looking at big items -other small but important fixes
Players Needed for Patch Testing
13 NOV, 2018 @ 4:03AM - PETER
Hi, we are making tons of fixes and we want to make sure we didn't break anything. If own the game you want to test fixes and features before they go to the main branch check this forum https://steamcommunity.com/app/704850/discussions/3/
EDIT: this is for the players that own the game :(
Patch 1.024
14 NOV, 2018 @ 2:16AM - PETER
here we go: - AI won't see the burglary from far away on closed doors - feature: trash button in storage for car parts - car brake should work correctly with turns - story clear data tablet and Cottage by Pecasso should not be sellable in the pawn shop - fixed bug with police spawning and despawning after pedestrian standing in front of the player's car (strange looped sound was made) -small fixes -fixed Vulcan door problem -implemented backup save system
As always, if some critical bugs show up, we will revert to previous Public testing 1.025 available
Patch 1.025
15 NOV, 2018 @ 1:51AM - PETER
Changes: -Feature: FOV settings in the main menu options -101 big items disappearing from car fixed -stronger brakes -small fixes
Let me know if anything serious went broken after this
Incoming First New Features
15 NOV, 2018 @ 9:41PM - PETER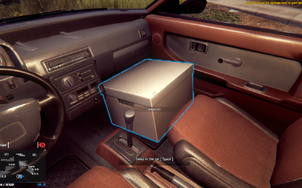 What's in the box? Well whatever you put in it. Small item storage in the car coming soon! ...along with other fixes and tweaks.

Edit patch 1.026 available for testers
Police AI
16 NOV, 2018 @ 5:27PM - PETER
We are currently checking out what can be done with the police AI and there's one question we need you to let us know what you think. Should cops shoot you when you try to run away. Fill this form: https://drive.google.com/open?id=1-mqIEPOBpssODbIax7WZBaOkGhgCN1XXzxQtaITKVts
EDIT: We seems to get mixed opinions, We would like to avoid instant game over from police but still make them a threat not easy to outrun. Any ideas?
Patch 1.027
17 NOV, 2018 @ 3:25AM - PETER
Important changes and fixes: -added box in the car with limited storage -tablet [story] cloning fixed -Mr. Torres should not see you through the wall in the toilet -disassembling jewelry is now faster, only the gems -missing achievements will be achieved -first loading no longer asks to close the program -cameras can be disabled after the alarm -some old toasters for people looking for them -paintings should not go below the ground -Czech language support
A lot of stuff changed, I hope nothing is broken, if something goes wrong we will get back to the previous one.
More Fixes / Content Incoming
20 NOV, 2018 @ 7:16PM - PETER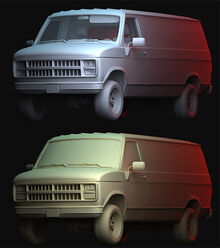 We are working day and night to bring you more content and fix bugs. First we will work on some AI, add some auctions. Then a new van. After that even more content.
Stay tuned! Little sneak peek...
Virtual cookie for anyone who knows what kind of van it is.
FB / Twitter and Patch Testing
29 NOV, 2018 @ 7:21PM - PETER
Hi, sorry for delay between the patches but as we add more features and not only fixes it takes a bit more time.
Make sure you check out our official twitter and facebook. We will post some wip pictures there from time to time. https://www.facebook.com/ThiefSimulator/ https://twitter.com/ThiefSimulator
Public beta tests are now live for our community testers on patch 1.032
If no serious bugs show up while testing we will post the new patch for everyone soon.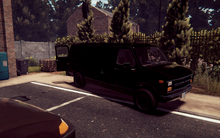 Also the van was based on the A-team 1983 GMC Vandura :)
Patch 1.032
30 NOV, 2018 @ 10:35PM - PETER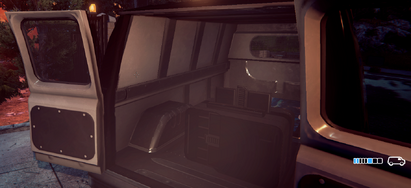 Changes: -car big item storage system changed (base car has 2 flat item spots and 1 thick item spot) -added van (should show up in the pawn shop around level 20) -new auctions -police in house will now search for players and no go directly to them -added space -> jump, to lean use right mouse button and left right -German language fixes -when inventory is full items will not vanish from inventory after hacking -Korean language support -small bug fixes -new achievement
What are we working on right now
5 DEC, 2018 @ 7:09PM - PETER
Hi, thanks for the amazing support!
I want to keep you guys updated on what features we are working on right now: -throwing items with left click (throw a painting above the fence and load it in your brand new van) -getting big items through a window -bug fixes And in the near future new mansion and possibly Christmas event :)
A bit later: -putting paintings on walls in thief's house and small items on shelves -controller support (partial or full, not sure right now)
Edit: -we are also considering free play (no story) ng+ with harder difficulty and always respawning items but with skills and levels unlocked from the start
New Patch Coming This Week
20 DEC, 2018 @ 7:10PM - PETER
Hello there, we are currently testing the new patch with new mansion and Christmas event. It's going to be ready very soon :)
Public patch beta test available on the beta test forum for the players that bought the game.
Christmas patch 1.041
21 DEC, 2018 @ 5:05PM - PETER
Merry Christmas! The new patch is online! Can you steal all of the presents for a new achievement? New mansion, new auctions, throw big items and a lot of other stuff.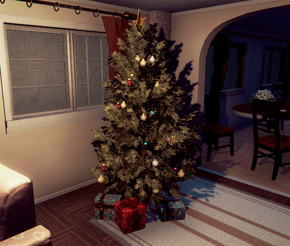 Change log: -new mansion 202 -new story mission (prequel to the last mission) -Christmas event -new achievement -new auctions -throw big items with left mouse button -throw items easily through windows -camera sound when detected + guards will check out the spot -small bug fixes -Hungarian language -Japanese language
Work in progress 15.01.2019
15 JAN @ 11:14PM - PETER
It's been a while since the last update, we wanted to share some of our WIP screens. Most important new features we are planning on adding: First: -first part of thief's house decoration (paintings on walls / items on shelves) -gamepad support
Bit later: -freeplay mode
After that: -new neighborhood and more story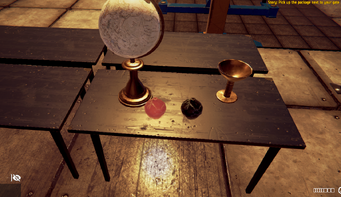 Test Patch 1.05 Available
22 FEB @ 10:56PM - PETER
Hi! If you want to test gamepad support before the version goes live you can check it here: https://steamcommunity.com/app/704850/discussions/3/1797403972737461922/ We will probably make it available for everyone on monday and let you guys know what next. (only for people that bought the game) Cheers
Patch 1.050
25 FEB @ 7:44PM - PETER
Hi, it's done, took a long while, the gamepad support was a bigger project than we expected, sorry.
Changes: -Gamepad support -Furniture system beta (will be expanded in the future) -AI changes (Important: police will now use taser guns from close range, police cars will have to hit player car for game over, tenant will try to run out of the house before calling the police) -lot of bug fixes EDIT: Make sure to rebind any keys changed before the patch because they will be cleared
Plans for the future:
Soon -new game plus+ (freeplay) -junkyard (for selling car parts etc)
Soonish -player house with furniture placement and ordering
Next -new industrial district -more story
Patch 1.055
28 FEB @ 9:27PM - PETER
Thanks for the awesome support! New patch time, this time it's released faster:
-police will now patrol the neighborhood after few times the player was seen by tenants (avoid detection to decrease threat) -fixed a bug where players couldn't unbind "Q" from quickslot (click few times on the X button next to the function key to remove all bindings, or clear the registry HKEY_CURRENT_USER\Software\Noble Muffins\Thief Simulator -checking hour routines should be now easier with gamepad -small fixes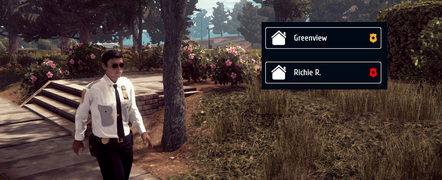 Patch 1.06
11 MAR @ 7:55PM - PETER
The new game + is here. To start a new game +, watch the last cutscene and make a new profile! Here's what's different on ng+: -no story -no experience, all skills are known at the start -some new items / auctions -some items will get randomized -locks should be different in some houses -tenant routines changed -new achievement and tool for those who like to grind some cash on ng+ and then play around with the game with a new Cloaking Device
Patch notes: -new game + added -achievement not showing bug fixed -some other small bug fixes
Patch 1.07
21 March 2019
Hi folks, this time it's the junkyard.

Patch notes:
-junkyard location added
-ability to sell car parts and cars
-cars respawn after selling
-achievement bug fix
-small fixes